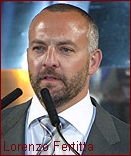 According to Dave Meltzer of the Wrestling Observer, UFC president Dana White announced to the promotion's employees today that UFC co-owner Lorenzo Fertitta is resigning as president of Station Casinos, the casino business that he co-owns with brother Frank Fertitta.
The report indicates that Fertitta will now work for the UFC on a full-time basis with the goal of expanding the company's overall business. Meltzer also states that Fertitta and White will be the "co-heads of the UFC."
As president of Station Casinos, Fertitta earned $113.8 million in 2007, according to Meltzer. The total made him the second-highest paid casino executive in Las Vegas last year.
Frank Fertitta III is now solely in charge of Station Casinos as the company's CEO.
It is unclear whether today's announcement is the same one that White had hinted at several weeks ago during an ESPN.com interview or if he had something else in mind at the time that ultimately fell through.
"There's something no one else has heard," White began to state during the interview. "You have no idea some of the stuff that we have planned. I'm going to make an announcement next week that is going to blow people's minds. That deal is done, but my employees don't even know yet. I'm renting out a place next Thursday and I'm going to tell them. Then we'll make the announcement later that day. It's an indicator of where this business is going over the next five years.
After using strong language to describe the forthcoming announcement, White attempted to downplay its impact in recent interviews after the announcement had been postponed twice.
In an article published today by Yahoo! Sports, White felt a need to take a proactive approach in addressing potential criticism that his announcement may not have been all that he initially promoted it to be.
"The Internet may not consider this huge news, but what the people on the Internet think is huge and what I think is huge are two different things," White is quoted as saying in the article. "But you know what? I think I have a pretty good track record. I think this is maybe the biggest day in UFC history. I'm so excited, I can't begin to explain it to you. This is an historic day for me and this company."